Haplogroup I is found almost exclusively in Europe where it is represented in about 20% of the population, making it the second most common haplogroup in western Europe, after R1b. Overall, Hg I has a broad European distribution, from the British Isles east to the Ural Mountains of Russia and south to Anatolia and the Mediterranean Sea. Hg I is divided into two main subclades: I1, which is the most common form of Hg I in northwestern Europe, and I2, which is the most common form of Hg I in eastern Europe. In terms of frequency, subclade I2 is much less common than I1.

It's difficult to generalize about I2 because it contains a number of geographically separate subgroups. The two main divisions of I2 are I2a and I2b. Some varieties of I2a are concentrated in the Balkans and are called "Dinaric" (named for a mountain range there, the Dinaric Alps), while others are found around the Baltic and North Sea coastal areas, another in the British Isles, and another in Sardinia and Iberia. One subgroup of I2b, called "Isles," is almost exclusive to the British Isles, with a high concentration in Scotland, while the main subgroup of I2b, dubbed "Continental," is most common in northwestern Europe, southern Scandinavia, and Britain.

The I2b2 subclade, defined by the L38 (=L39) SNP, is discussed in depth by Belgian genealogist, H. De Beule. The L38/39 clade is sometimes dubbed, "The Lichtensteiners," because of tests on 3000-yr-old skeletons found in a cave in Lichetenstein.

I recommend our subjects join the Haplogroup I2b2 L38 Project at FTNDA.
Y-DNA Haplogroup I2 SNPs and Subclades
(An equal sign in the ISOGG column means the value is the same as FTDNA.)
Mutations
Standard
FTDNA
ISOGG
M170 P19 L41 M258 P212 P38 PS76 U179
I
=
M253
I1
=
P215=M438=S31 L68
I2
=
P37.2
I2a
=
M26 L158 L159.1=S169.1
I2a1
=
M161
I2a1a
I2a1a1
L160
I2a1b
I2a1a
M423 L178
I2a2
=
L69.2(=T)=S163.2
I2a2a
M359=P41.2
I2a2a
I2a2a1
L161
I2a2b
=
L233
I2a3
=
P217=S23 L181 L35=S150 L37=S153 P214=M436=S33 P216=S30 P218=S32
I2b
=
M223 L34=S151 L36=S152 L59 P219=S24 P220=S119 P221=S120 P222=S118=U250 P223=S117
I2b1
=
M284
I2b1a
=
L126=S165 L137=S166
I2b1a1
=
M379
I2b1b
=
P78
I2b1c
=
P95
I2b1d
=
L39=S155 L38=S154 L40=S156 L65.1=S159.1
I2b2
=
Distribution of Y-DNA Haplogroup I and Its SNP Mutations
-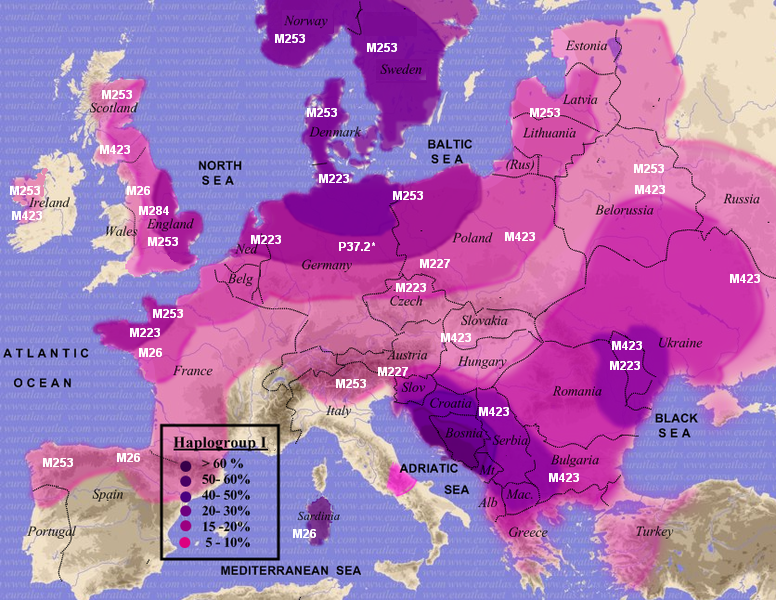 Image released to the public domain by Hxseek at Wikipedia.

Labels in white are the SNP mutations; percentages are the frequency of Haplogroup I in the population. SNPs that appear on the map, but not in the chart at the left, are Haplogroup I1 SNPs. Hopefully, the map will be updated to include the new L38 SNP. In the interim,
Please see this map for the distribution of L38 [=L39].
So far, two members of the project are Hg I2, representing descendants of one near common ancestor.
Subclade

SNP
D
e
m
e
Surname
Earliest Known Patrilineal Ancestor
n
I2b2
L39
1
BIDDLE
William BIDDLE (1630-1712) of London, England, and Burlington Co., NJ
1
BIDDLE
John BEEDLE (c1756- ) of Upper Sapey, HWR, England
1